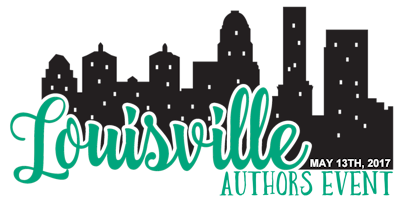 Buy Tickets
Join us at the Louisville Authors Event and see 50 amazing authors all under one roof! We have several ticket options available depending on your budget. There will also be an after party with DJ, cash bar, photobooth, and desserts! We'll also be having some great giveaways including a Kindle Fire! We can't wait to see you there!
Latest Event Updates
If you haven't seen it on Facebook, the Louisville Authors Event is having a St. Patrick's Day sale! Right now General Admission tickets are 75% off, After Party tickets are 50% off, and VIP tickets are 10% off! We also have shirts and totes available. They always make a great keepsake if you have all of the authors sign them.
Tickets: http://lae2017.eventbrite.com
I can finally share the news of our latest author! We'll have Creek Stewart, best known for his TV series Fat Guy in the Woods on the Weather Channel, as a signing author at LAE! He has both fiction and non-fiction books. His latest is a YA Dystopian, Rugosa. He also has several survival guide books.
Check out his website and his list of books
Do you own a business that you'd like to advertise to the authors and attendees of LAE? Maybe you're a blogger, formatter, editor, proofreader, or PR Company? Perhaps you're just a local business that would like to get the word out to the Louisville area. We are selling program space. You can purchase a 1/4, 1/2, or full page. These programs will be handed out to every attendee, author, and volunteer.
Programs will be 8.5″ x 11″. Please note there is a .25″ trim margin that you'll need to take into consideration. Please do not put any text or essential elements in this trim area. All images must be 300 dpi.
If you're interested in purchasing a space, please visit: https://goo.gl/forms/XS4vUVuZLev7Ip072 and fill out the form. Once information is received, you'll be sent an invoice via PayPal. Here are the options available.
1/4 page (4.25″ wide x 5.5″ tall): $30
1/2 page (8.5″ wide x 5.5″ tall): $55
Full page (8.5″ wide x 11″ tall): $100
Tomorrow marks 75 days until LAE 2017. Are you ready? There are still tickets available. So check out https://louisvilleauthorsevent.wordpress.com/tickets and grab yours today! We have shirts and totes for purchase on this ticket link, too!
Also, I'd like to show you all the updated author list. We are only one author short and I'm waiting to finalize everything for this one. If it all pans out, I'm super excited to announce this last author. Stay tuned for more info!
Here is the current list:
| | | |
| --- | --- | --- |
| A.D. Ellis | Emma Shade | Lora Thomas |
| A.S. Hamid | Glenn Porzig | Lorelei Kirk |
| Alicia Michaels | Heather Marie Adkins | Melissa Renee |
| Amy J. Hawthorn | J. Laslie | Miranda Lynn |
| Amy Lynn | J.M. Madden | Naomi Miller |
| Anya Breton | Jacqueline Rhoades | Seraphina Donavan |
| Ava Cuvay | JC Morrows | Shawn Reilly |
| Ava Wood | Jessica Cage | Stacie Wilson |
| C.M. Michaels | Jessie Lane | Susan Burdorf |
| Cheryl Brooks | Jillian Jacobs | T.C. Winters |
| Cree Nations | Jordan Deen | T.J. Loveless |
| Deanndra Hall | K. R. Fajardo | Teresa Gabelman |
| Desiree DeOrto | Kallypso Masters | Terry Maggert |
| Desiree Williams | Kyleigh Castronaro | Vanessa Marie |
| Elissa Daye | Laurel Heidtman | Victoria Escobar |
| Elizabeth Isaacs | Linda Ellen | |
| Elizabeth Sharp | Lita Lawson | |
Good evening! I wanted to make sure that everyone who needed it had the room block for The Crowne Plaza. It's $119/night and you can reserve your room online here: https://aws.passkey.com/e/15624597.
If you haven't bought your tickets already, no problem. Head over to the "tickets" tab on our site and pick your favorite ticket option! You can buy a ticket for either time slot or you can purchase a VIP ticket which gets you into both time slots, a snazzy tote bag with some great LAE swag, and entrance into the after party.
Our after party will have a DJ, cash bar, desserts, and a photobooth! Everyone had a blast in 2015. Don't miss out on all the fun and the chance to meet 50 fabulous authors! We can't wait to see you there!
Note: We're also going to have raffle baskets for you to enter to win during the event. All proceeds will benefit Operation CatSnip. We'll also be doing a supply drive for them as well, which can get you free tickets for the raffle baskets if you bring in a much needed item. Currently, I'm fostering cats/kittens for this organization. I've also adopted from them. They do all they can to rescue cats from kill shelters. Operation CatSnip also goes out of their way to feed feral cat colonies and spay/neuter the cats in those colonies so they do not grow in numbers. I can't speak enough about the wonderful things this organization does. Our raffle will be dubbed "Books and Cats". Lots more info to follow about this!
Tickets for LAE are now live! You can find all of the info on our "tickets" tab.
You can also purchase event t-shirts and totes! Both are great items to buy and get all of the authors to sign. Stay tuned as we continue to announce authors. We have some great authors signed up. Once they complete the registration process I'll announce them. Thanks!
Hello fellow readers!
We're gearing up for the Louisville Authors Event 2017! We'll be at The Crowne Plaza hotel in 2017 (same venue as the 2015 event). We have the Exhibit Hall again. Mark your calendars for May 13th, 2017! We'll have two time slots for you to purchase admission for as well as a VIP ticket that'll get you into both time slows and the after party! I've revamped the website, but it's still under construction. Be sure to check out the right sidebar on our site for all the latest info! It includes the venue address, FB page, and attending authors list!
So far, we have the following authors attending:
● Alex Grayson
● Ava Wood
● Deanndra Hall
● Elizabeth Isaacs
● J. Laslie
● Jillian Jacobs
● Jordan Deen
● Seraphina Donavan
● Stacie Wilson
● Vanessa Marie
I'll be announcing authors as they complete the registration process. Be sure to like our FB page!
You can also find helpful information here:
FB Event – Mark that you're going and invite all of your friends!
If you're an author and you're interested in attending, you can fill out the interest form and this will put you on the waiting list. Filling out this form does not guarantee you a spot, but it gets you one step closer!
Thanks everybody and I look forward to seeing you in 2017!